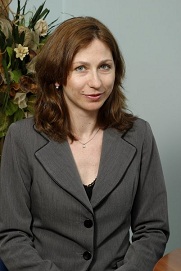 Following graduation from Sofia University with a Master's degree in law, Pepa completed her apprenticeship at Sofia District Court in 1994 and worked as an associate in a Sofia law firm. On becoming a member of the Sofia Bar Association in March 1995 she established her own legal practice specializing in representing both local and international clients in all aspects of Bulgarian law. Pepa is a recognized specialist in administrative, civil and commercial litigation and arbitration proceedings (Vienna International Arbitral Centre, International Chambers of Commerce Arbitration) and has also provided legal advice in key areas of real estate law, building and constructions, civil law, conventional lien, administrative law, family law, commercial law, company law, international law, European Union law (European Court of Human Rights), pre-court settlement of disputes, leasing law, banking law, anti-money laundering legislation and human rights.
Due to complete an LLM in International Tax Law at the Vienna University of Economics and Business Administration in 2013, Pepa offers a full range of consulting legal services in the fields of international tax planning and business networking in Bulgaria and Austria, settlement of individuals and companies in Austria and Bulgaria, CEE consulting and other bilateral tax conventions. In 2011 consultancy work involved advising the Austrian legal firm Lansky, Ganzger and Partner with respect to Bulgarian, international and EU legislation, commercial law, company law, contractual law, banking law, leasing law, anti-money laundering law; applicability and correlation between domestics and international civil and penal laws, and determination of competent jurisdictions.
With an established reputation for her meticulous and thorough approach to working with clients, Pepa has built effective working partnerships in Bulgaria, Austria, Germany, and Russia with other lawyers, notaries, and proficient specialists in related fields including real estate brokers, architects, tax advisors, accountants, translators, and interpreters. She has also been involved in various legal research papers and commentaries regarding case law and the new Austrian-Bulgarian convention on the avoidance of double taxation.
Pepa works in English, Bulgarian, and Russian.